Picture yourself walking through their campuses, where a profound dimension of learning unfolds as professors seamlessly weave biblical truths into rigorous academic programs. Engage in thought-provoking discussions, experience the uplifting atmosphere of chapel services, and form lifelong connections with fellow believers who share your unwavering passion for Christ.
Yet, the richness of your spiritual journey doesn't end within the walls of these exceptional Christian Colleges. Massachusetts offers an abundance of resources that will further ignite your faith and propel you towards impacting the world around you.
List of Christian Colleges in Massachusetts
When it comes to pursuing a christian course, selecting the right university is a pivotal decision that sets the course for your future career. We understand the importance of finding an institution that aligns with your goals, values, and preferred learning style. That's why we have curated this comprehensive guide to help you navigate through the top Christian colleges in Massachusetts that offer exceptional religion programs.
Eastern Nazarene College (Quincy, Massachusetts)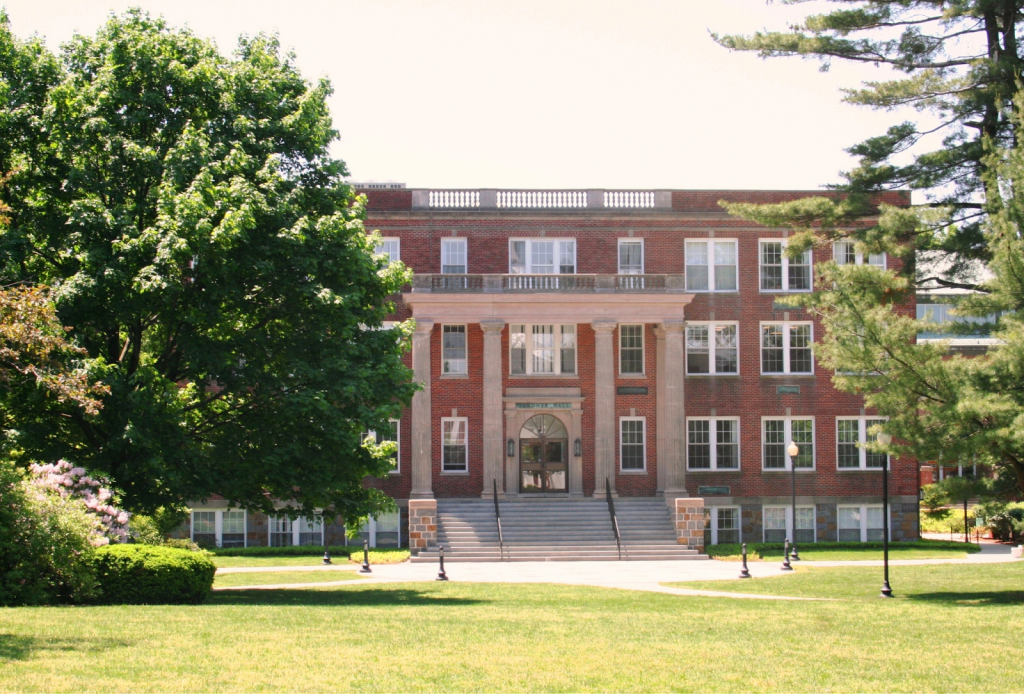 Image from Eastern Nazarene College 's official website
Tuition: The average cost of attendance after financial aid at Boston Trinity Academy is $22,000.
Graduation Rate: 49%
Acceptance Rate: 64%
Admission Requirements
For a more comprehensive understanding of the admission process at Boston Trinity Academy, we invite you to visit the following link: https://enc.edu/admissions/.
Courses Offered
At Eastern Nazarene College, students have the opportunity to explore diverse fields of study within the religion program. The college offers majors in Religion, Biblical Studies, Theology, Intercultural Studies, Philosophy, Worship Arts, and Ministry (Christian, Youth, & Children's). Located in Quincy, MA, the college provides a supportive community rooted in faith and committed to academic excellence.
Students can choose to pursue a track in biblical literature or theology and philosophy, further enhancing their understanding and expertise in these areas. Furthermore, for those seeking a broader academic experience, the college offers the opportunity to pursue a double major. By combining religion studies with majors such as social work, communications arts, journalism and writing, or computer science, students can broaden their knowledge and skills.
To facilitate an optimal learning environment, Eastern Nazarene College maintains small class sizes that foster close relationships between students, professors, and peers. This enables engaged classroom discussions and allows for faculty-led research initiatives. The dedicated faculty at Eastern Nazarene College takes a genuine interest in each student, providing guidance and support to help them discern their calling and achieve their highest potential.
Gordon-Conwell Theological Seminary (South Hamilton, Massachusetts)
Image from Gordon-Conwell Theological Seminary 's official website
Tuition: The cost of tuition and fees for the academic year 2023-2024 is $46,780, and there is an additional matriculation fee of $400.
Graduation Rate: N/A
Acceptance Rate: N/A
Gordon-Conwell Theological Seminary is a Christian graduate school of theology with four campuses located in Massachusetts, North Carolina, Florida, and California. It is accredited by the Association of Theological Schools (ATS) and the New England Commission of Higher Education (NECHE).
As a Christian college, Gordon-Conwell is affiliated with various denominations such as the Baptist General Conference, the Presbyterian Church in America, and the Episcopal Church. The seminary attracts a diverse student body from various Christian traditions and backgrounds, creating a rich and dynamic learning environment.
Gordon-Conwell Theological Seminary is more than just an academic institution; it is a community of faithful Christians dedicated to serving the church and beyond. The seminary is renowned for its extensive partnerships with churches and organizations worldwide, fostering a deep commitment to ministry and outreach among both faculty and students.
Admission Requirements
To find more information about the detailed process for every program, including tuition and financial aid, please visit the Gordon-Conwell Theological Seminary website at https://www.gordonconwell.edu/admissions/tuition-financial-aid/. On their website, you will discover comprehensive and updated information regarding the specific admission requirements and steps for each program.
Courses Offered
The Master of Divinity (MDiv) program at Gordon-Conwell Theological Seminary is designed to provide individuals with a robust academic foundation for effective ministry. This program is specifically tailored for committed Christians who feel called to serve the church and make a positive impact in the world. The MDiv degree serves as an important steppingstone for further theological studies, such as a Th.M. or a D.Min.
To successfully complete the Master of Divinity degree, students are required to fulfill a total of 90 credit hours and maintain a minimum grade point average of 2.0 or higher. This comprehensive curriculum equips students with the necessary knowledge, skills, and spiritual formation to excel in various ministry contexts. By offering a diverse range of courses and practical experiences, the MDiv program prepares students to engage with theological and practical challenges while remaining faithful to their calling.
Master of Arts in Christian Ministries
The Master of Arts in Christian Ministries (MACM) program offers a dynamic and comprehensive education for individuals preparing for diverse Christian ministry roles. This program is designed for committed Christians who feel called to ministry and may already be actively engaged in it.
The MACM curriculum provides a strong foundation through nine core courses that cover essential aspects of ministry. Alternatively, students can work closely with their advisor to create a personalized concentration by selecting from the seminary's practical theology offerings.
Throughout the MACM program, students will complete a total of 48 credit hours, including the core and concentration courses. To maintain good academic standing, students are expected to maintain a grade point average of 2.0 or higher. This program provides a unique opportunity for individuals to cultivate their skills, knowledge, and spiritual growth, equipping them to make a meaningful impact in various ministry contexts.
The Th.M. (Master of Theology) program provides an immersive academic experience for individuals seeking to delve deeply into a specific discipline within theology. Prospective students who hold an M.Div. or an MATS degree with a GPA of 3.0 in their desired area of focus are encouraged to apply.
Within the Th.M. program, students can choose from a range of captivating areas of study, including Ancient Languages & Cultures, Old Testament, New Testament, Theology, Church History, Missiology, Bible Exposition and Preaching, Pastoral Theology, and Preaching. Students concentrating in biblical studies should demonstrate competency in Greek and/or Hebrew language.
To earn the Th.M. degree, students are required to complete 24 credit hours of coursework while maintaining a GPA of 3.0 or higher. This program encourages intellectual exploration, fosters academic excellence, and prepares students for impactful ministry and scholarly pursuits.
The Doctor of Ministry (D.Min.) is the pinnacle of professional degrees for individuals already thriving in their ministry pursuits. This exceptional program empowers leaders in Christian ministry to elevate their impact within their church, parachurch organization, or mission field.
To earn the Doctor of Ministry degree, students must complete 9 courses (46 credits), maintain a 3.0 or higher GPA, and attend graduation exercises. The program is designed to be completed within ten years and is delivered in a specialized, cohort-based format over three years. This immersive program includes two continuous weeks of intensive residency each year and one significant on-site project between the first and second residency, as well as between the second and third residency.
Approximately six months before each residency, track mentors assign extensive reading and preparation to participants, which require a commitment of twelve hours per week leading up to the residency.
Merrimack College (North Andover, Massachusetts)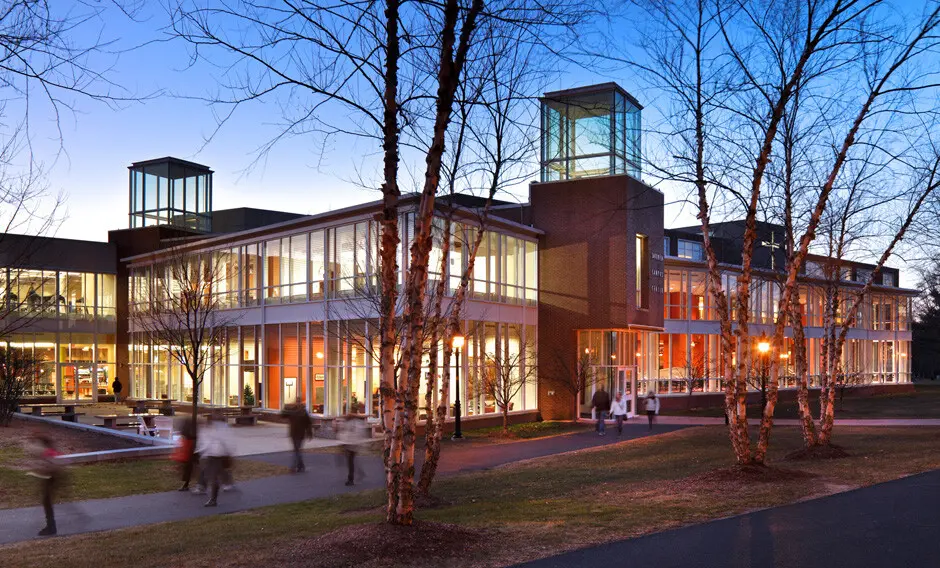 Image from Merrimack College's official website
Tuition: The average cost after aid for tuition and fees at this institution is $46,916. However, the cost can be reduced to $34,000 depending on the amount of financial aid a student receives.
Graduation Rate: 71%
Acceptance Rate: 80%
Admission Requirements
At Merrimack College, the admission process is designed to help prospective students navigate through the steps needed to enroll in the institution.
The first step in the process is to create an account on the Merrimack website and fill out the application form.
After submitting the application, students must provide their official high school transcripts, SAT or ACT scores, and a recommendation letter from a teacher or guidance counselor.
The admissions team will then review the application and supporting documents to determine if the student is a good fit for the college.
Admitted students will be notified by mail and will have the opportunity to schedule a campus visit, meet with current students, and learn more about the academic programs and extracurricular activities available at Merrimack College.
Courses Offered
Bachelor of Arts in Religious and Theological Studies
As a student pursuing a major in Religious and Theological Studies, you will delve into the study of religion and its significance in human life and development. The program requires a minimum of 124 credits to graduate, with a minimum cumulative GPA of 2.0.
There are two tracks available for students who want to major in religious and theological studies: one with an emphasis in religious studies and the other in theological studies. Both tracks require completion of 10 courses in addition to meeting the College's general education requirements.
To fulfill the requirements for the major, you will need to complete a minimum of 38 credits in the chosen track.
Regis College (Weston, Massachusetts)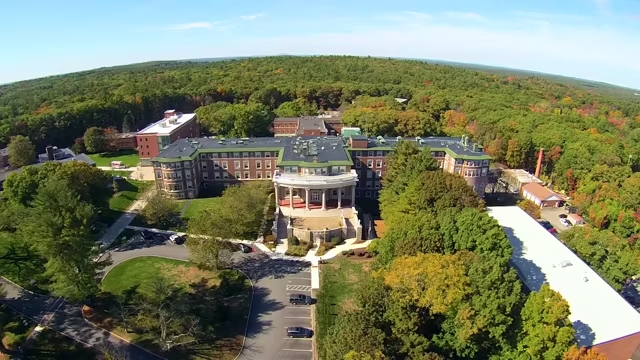 Image from Regis College 's official website
Tuition: The cost of tuition and fees for the academic year 2023-2024 is $46,780, and there is an additional matriculation fee of $400.
Graduation Rate: 65.21%
Acceptance Rate: 77%
Admission Requirements
You can check out the admission website of Regis College at https://www.regiscollege.edu/admission-and-aid/undergraduate-admission/admission-requirements-and-procedures to get an idea about their admission requirements and procedures for undergraduate and graduate programs.
Courses Offered
Regis College offers three entry-level master's programs in theology that cater to different individuals' needs and experiences.
Master of Theological Studies: Consisting of 20 units, is designed for professionals who want to enhance their work and personal lives with a multidisciplinary study of theology.
Master of Arts in Ministry and Spirituality: Also consisting of 20 units, is ideal for those with ministerial experience who seek reflection, professional development, personal integration, and/or spiritual direction.
Master of Divinity: On the other hand, requires 30 units and offers the initial formation for ordained or lay ministry in the Roman Catholic tradition.
Moreover, there is a Theology, Spirituality, and the Arts stream under the Master of Theological Studies program.
Regis College, as an educational institution with both ecclesiastical and civil charters, provides three recognized ecclesiastical degrees that are acknowledged across Canada and the world.
Bachelor of Sacred Theology: 30-unit program providing first formation in ministry, corresponding to the Master of Divinity.
Licentiate in Sacred Theology: Two-year "second cycle" program providing basic competence to teach theology in many Roman Catholic schools; often pursued alongside a research-oriented advanced master program at Regis College.
Doctor of Sacred Theology: "Third cycle" program providing in-depth preparation to teach at an advanced level or exercise other creative forms of leadership in the Church.
Graduate students in research-oriented programs are immersed in a context grounded in Scripture and tradition, animated by a communal sense of God's love in Jesus Christ, and stimulated by the challenges and questions of modern society. The advanced programs thoroughly prepare students for their vocation of theological scholarship in the areas of learning, research, and teaching, according to the level of their program. These programs are administered through the Toronto School of Theology.
Regis College offers the following advanced degrees:
Master of Arts in Theological Studies (M.A.)
Master of Theology (Th.M.)
Doctor of Ministry (D.Min.)
Doctor of Philosophy in Theological Studies (Ph.D.).
Resources and Christian Organizations in Massachusetts
In the field of social psychology, it's important for Christian scholars, practitioners, and enthusiasts to stay updated on the latest research, theories, and advancements. Luckily, there are many Christian organizations, journals, and platforms that focus on sharing knowledge, promoting excellence, and blending Christian principles with social psychology.
Christian Fellowship of Boston: At the heart of CFB's activities is the desire to provide opportunities for students to connect, worship, learn, and serve together. Through their website and regular gatherings, CFB offers a platform for students to engage in meaningful fellowship, encouraging them to build lasting friendships, support one another, and grow in their faith.
CFB organizes a wide range of events and initiatives, including retreats, conferences, worship gatherings, Bible studies, and service projects. These activities provide a space for students to deepen their understanding of God's Word, worship together, and develop a strong sense of community. Additionally, CFB collaborates with local churches, ministries, and organizations to provide students with resources and opportunities for involvement in the broader Christian community.
Unite Boston: UniteBoston (UB) serves as a vital link between the Christian community and the broader Greater Boston area. With a vast network encompassing over 200 churches and ministries, UB actively fosters unity and collaboration by serving as a networker, bridge-builder, promoter of local events, and a valuable resource for partnerships.
Through their monthly email newsletter and website, UB reaches over 1,000 individuals in Greater Boston, while our overall annual impact extends to more than 18,500 people. This organization strives to connect churches, ministries, and individuals, creating a sense of cohesion and collective purpose within the Christian community.
UMass Amherst: UMass Amherst is known for its diverse and vibrant campus community, with students from all 50 states and over 70 countries. The university offers a broad spectrum of undergraduate and graduate resources across various disciplines, including the sciences, humanities, social sciences, engineering, business, and more. Students benefit from a wealth of resources and opportunities, including state-of-the-art facilities, research centers, internship programs, and community engagement initiatives.
Christian Science: Christian Science is a religious movement founded by Mary Baker Eddy in the late 19th century. It is centered around the teachings of the Bible and Eddy's primary work, "Science and Health with Key to the Scriptures." Christian Science emphasizes the power of prayer and the understanding of God's healing presence to bring about physical, mental, and spiritual well-being.
Visitors to the website can explore the core beliefs of Christian Science, such as the nature of God as infinite Love, the spiritual interpretation of the Bible, and the idea that true health comes from an understanding of one's spiritual identity. The website also offers insights into the healing ministry of Christian Science and the transformative power of prayer in overcoming challenges and achieving spiritual growth.
Frequently Asked Questions About Studying in Massachusetts
How do Christian colleges in Massachusetts integrate faith into campus life?
Faith integration is a key aspect of Christian colleges in Massachusetts. These institutions prioritize the integration of faith into all aspects of campus life, including academics, student activities, and community engagement. Students can participate in chapel services, Bible studies, prayer groups, and various campus ministries. Faculty and staff members also incorporate Christian perspectives into their teaching and mentoring, fostering a holistic approach to education.
Are there opportunities for spiritual growth and service in Christian colleges in Massachusetts?
Absolutely. Christian colleges in Massachusetts provide ample opportunities for spiritual growth and service. Students can engage in worship, retreats, mission trips, and community service projects that allow them to put their faith into action. These experiences not only deepen their understanding of Christian principles but also equip them with valuable skills and a sense of purpose to make a positive impact in their communities.
What kind of support systems are available for students in Christian colleges in Massachusetts?
Christian colleges in Massachusetts prioritize the well-being and development of their students. They offer comprehensive support systems, including academic advising, counseling services, mentorship programs, and career guidance. Additionally, the tight-knit communities within these colleges foster strong relationships among students, faculty, and staff, creating a supportive environment where students can thrive academically, spiritually, and personally.
What is the campus culture like at Christian colleges in Massachusetts?
The campus culture at Christian colleges in Massachusetts varies depending on the institution, but they often foster a welcoming and inclusive community that values faith, character development, and intellectual growth. Students can expect a supportive environment where they can form meaningful relationships with peers, faculty, and staff who share similar values. The campus culture may include opportunities for spiritual growth, engagement in service activities, and a commitment to academic excellence.
How can I afford tuition and expenses at a Christian college in Massachusetts?
Christian colleges in Massachusetts understand the financial challenges students may face and strive to make education affordable. They offer scholarships, grants, and financial aid programs based on academic merit, financial need, or both. Additionally, many colleges provide work-study opportunities on campus to help students offset their expenses. It's recommended to explore the financial aid options available at each institution and reach out to their financial aid offices for personalized guidance.