South Carolina is truly a special place where academic excellence meets a genuine commitment to faith-based learning. But what makes South Carolina stand out as an ideal destination for Christian education? Well, for starters, the state is steeped in history and culture deeply intertwined with Christian faith. It provides a unique backdrop for your studies and a remarkable environment that encourages personal exploration, community engagement, and spiritual growth.
Not only that, but South Carolina is home to some truly exceptional Christian colleges. These institutions have earned a reputation for academic excellence and a genuine commitment to nurturing students' faith. Here, you'll find immersive environments where you can connect with like-minded peers, form meaningful relationships, and receive guidance from passionate faculty members who are dedicated to integrating faith and learning.
List of Christian Colleges in South Carolina
The colleges featured in this guide understand the importance of integrating religious studies into their curriculum, providing an exceptional opportunity for students to deepen their understanding and engage with their faith. By immersing yourself in these courses, you will embark on a transformative journey where your academic and spiritual growth will be nurtured simultaneously.
Whether you are passionate about theology, biblical studies, or exploring various aspects of Christianity, these colleges will undoubtedly provide a fertile ground for your personal and intellectual exploration.
Anderson University (Anderson, South Carolina)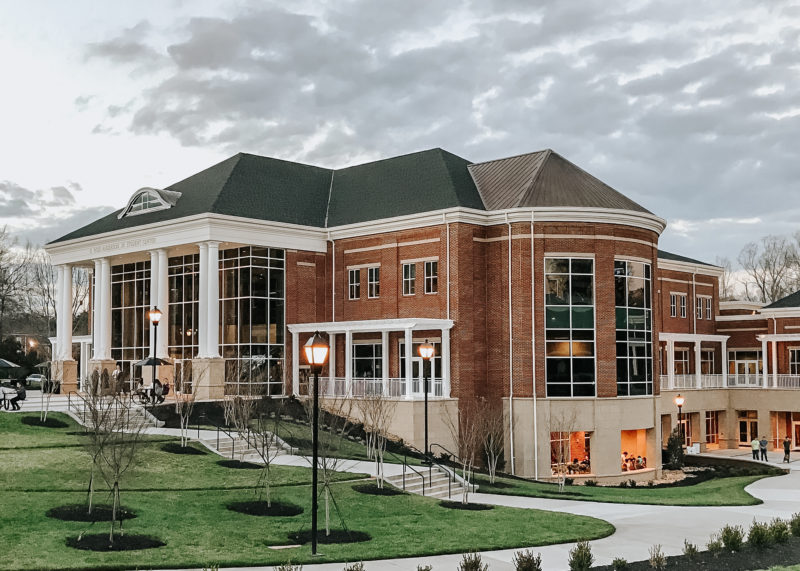 Tuition: The average annual cost before aid at our institution amounts to $46,684, yet after the application of aid, it diminishes to $21,271, reflecting a considerable reduction.
Graduation Rate: 65%
Acceptance Rate: 50%
Guided by Christian principles, the university offers a faith-based education that seamlessly integrates spirituality into its academic programs. Anderson University proudly holds accreditation from the Higher Learning Commission, serving as a testament to its dedication to upholding rigorous academic standards and providing students with a high-quality education.
The university's commitment to fostering a personalized and engaging learning environment is evident through its deliberate focus on small classroom sizes. By intentionally keeping class sizes small, Anderson University cultivates an atmosphere where students can enjoy individualized attention from faculty members and actively engage in collaborative discussions. This approach creates a tight-knit community that not only encourages mentorship and academic growth but also nurtures lasting relationships among students.
Admission Requirements
To explore admission information and details, please visit the following website: https://andersonuniversity.edu/admission.
Courses Offered
Bachelor of Arts in Christian Studies
The Christian Studies major at Anderson University offers a comprehensive and enriching program of study. Students in this major delve into a variety of subjects, including Scripture, theology, philosophy, apologetics, and church history, equipping them with a well-rounded understanding of their faith and its practical applications in ministry.
Innovation is also a hallmark of Anderson University's Christian Studies program. The visionary leadership of the dean, who founded Preaching Magazine and the National Conference on Preaching, sets the tone for an environment that encourages innovative thinking in ministry. Students have the opportunity to explore various concentrations and shape their ministry accordingly, fostering creativity and adaptability in their approach.
Additionally, Anderson University offers a Fast Track BA+MDiv program, enabling students to earn graduate school credits while still completing their undergraduate degree. This presents a cost-saving opportunity and meets the needs of many ministry employers who increasingly value advanced theological education.
Charleston Southern University (North Charleston, South Carolina)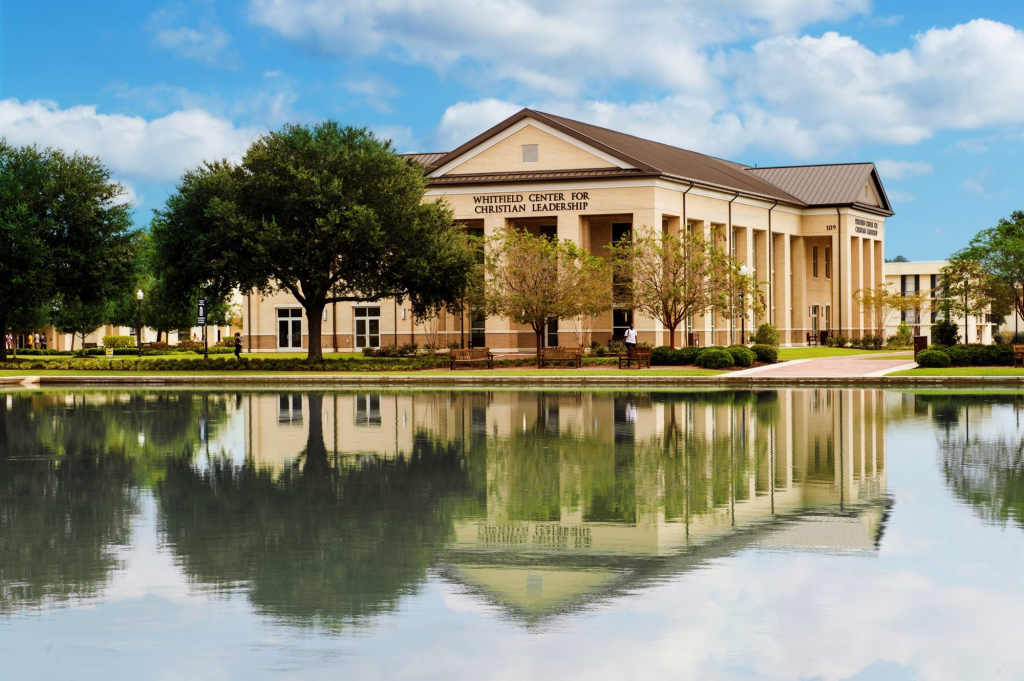 Tuition: With an initial average annual cost of $44,422 before aid, students benefit from a substantial decrease to $17,368 after aid is applied. 
Graduation Rate: 41%
Acceptance Rate: 57%
As an institution affiliated with the South Carolina Baptist Convention, the university embraces its Christian identity and values, providing a faith-centered education to its students. Charleston Southern University holds accreditations from the Southern Association of Colleges and Schools Commission on Colleges (SACSCOC) and various professional organizations, ensuring the delivery of high-quality education and meeting rigorous academic standards.
Classroom sizes at Charleston Southern University are intentionally designed to foster an environment of active learning and meaningful student-faculty interactions. With a focus on individual attention, students benefit from small class sizes that facilitate engaging discussions, personalized instruction, and opportunities for mentorship. This approach creates a supportive and collaborative atmosphere where students can actively participate in their education and develop close relationships with faculty members.
Admission Requirements
To access information about admissions, please visit the following website: https://www.charlestonsouthern.edu/admissions/.
Courses Offered
Bachelor of Arts in Christian Studies
The Bachelor of Arts in Christian Studies program at Charleston Southern University is designed to empower students to live out their faith and worship Jesus in every aspect of their lives. This degree equips students with the knowledge and skills needed to effectively minister and share the gospel, whether in traditional church settings, parachurch organizations, or other contexts. By providing a solid foundation in biblical, theological, philosophical, and historical knowledge, students are prepared to engage with and apply Christian orthodox beliefs and practices.
In this program, students have the opportunity to explore a variety of subjects, including church history, systematic theology, hermeneutics, philosophy, and biblical studies. These diverse areas of study help students develop a well-rounded understanding of their faith and its implications for their lives and ministry.
To further personalize their education, students can choose from a range of specialized courses. These options include subjects like Biblical Hebrew, Biblical Greek, International Missions, Church Planting, Biblical Counseling, and more. This flexibility allows students to tailor their studies to align with their specific interests and calling in ministry.
Bachelor of Arts in Chaplaincy Ministry
By pursuing a Bachelor of Arts in chaplaincy ministry, you will acquire the necessary skills to provide better care for people in need. This program, available as both a major and a minor, offers a transformative learning experience focused on ministering to individuals within your personal life, church, and community, equipping you with practical tools and confidence.
One notable course within the program is the "Introduction to Crisis Ministry," often referred to as the "What Do I Do When?" course. In this class, you will learn how to effectively respond when someone is displaying unusual behavior, make hospital visits, minister to individuals in correctional facilities, handle natural disasters, assist in delivering tragic news alongside police officers, and support military families within your community.
The knowledge and skills acquired from your chaplaincy and Christian studies courses will enable you to develop a hands-on ministry approach rooted in God's Word, preparing you for impactful service within your church.
Bachelor of Arts in Family and Children's Ministry
The Bachelor of Arts in Family and Children's Ministry program at Charleston Southern University is designed to empower students to worship Jesus in every aspect of their lives and in any calling they may have. Within the College of Christian Studies, students are equipped to minister effectively and embody the gospel through both their words and actions. This is achieved by establishing a firm foundation of biblical, theological, philosophical, and historical knowledge rooted in the principles of Christian orthodoxy.
In addition to a comprehensive Christian studies foundation, students in this program engage in specialized courses that focus on child development and ministry programming. This specialized training equips students with the necessary skills and knowledge to minister effectively to children and their families.
To further enhance their understanding and application of ministry principles, students have valuable opportunities to gain practical experience through internships with local churches and parachurch ministries.
Columbia International University (Columbia, South Carolina)
Tuition: Experiencing an average annual cost of attendance at Charleston Southern University of $38,850 before receiving financial aid, students can discover significant relief when the cost decreases to $20,181 after the application of aid.
Graduation Rate: 55%
Acceptance Rate: 46%
Columbia International University (CIU) is a renowned private Christian institution located in Columbia, South Carolina. The university is deeply rooted in its religious affiliations and is committed to providing a faith-based education that integrates biblical principles into all aspects of its academic programs. CIU holds accreditation from the Southern Association of Colleges and Schools Commission on Colleges (SACSCOC), ensuring the university meets rigorous academic standards and delivers high-quality education to its students.
The university offers a wide range of programs and degrees in fields such as Bible and ministry, business, education, psychology, and more. CIU's global focus extends beyond the classroom, providing opportunities for students to engage in cross-cultural experiences, internships, and mission trips that deepen their understanding of diverse cultures and strengthen their commitment to making a positive impact in the world.
Furthermore, Columbia International University places a strong emphasis on spiritual formation and discipleship. The university offers chapel services, Bible studies, and various spiritual growth programs to nurture students' faith and encourage their personal relationship with God. CIU's vibrant campus community creates an environment where students can grow spiritually, intellectually, and personally, fostering deep connections and lifelong friendships.
Admission Requirements
To begin the admissions process, all the necessary information and resources can be found conveniently at the following link: https://www.ciu.edu/admissions.
Courses Offered
With a curriculum consisting of 120 credit hours, this four-year program provides a comprehensive education for those seeking a deep understanding of the Bible while integrating faith and learning. Accredited by SACSCOC, CIU ensures a high standard of education and academic excellence.
One distinctive aspect of CIU's Bible degree program is its emphasis on practical experience. Students have opportunities to engage in real-world ministry experiences and service projects, allowing them to apply their biblical knowledge in practical ways.
Flexibility is another advantage of the Bible degree program at CIU. Students have the freedom to select courses that align with their specific interests and career goals. The program offers various course formats, including traditional classroom settings, online classes, and hybrid options, catering to different learning preferences and schedules.
Bachelor of Science in Youth Ministry, Family, and Culture
Columbia International University offers a Bachelor of Science in Youth Ministry, Family, and Culture program, providing students with the opportunity to make a meaningful impact on the next generation and their families. Through this program, students delve into contemporary issues affecting family life and culture, gaining a deep understanding of these dynamics and how they intersect with ministry.
Emphasizing practical, hands-on learning, students are equipped with the knowledge and skills needed for successful careers in youth and family ministry. Moreover, this degree provides a strong foundation for further studies in divinity or theology, enabling students to pursue advanced education if desired.
Besides, students also benefit from personalized attention and a supportive learning environment that fosters close relationships with faculty and peers. The program also includes a second major in Bible, enhancing students' biblical knowledge and understanding. Many students have the flexibility to add a minor to further customize their education.
Resources and Christian Organizations in South Carolina
As you navigate your academic and spiritual endeavors in South Carolina, we believe that these organizations and resources will serve as pillars of support along your path. They are designed to help you find like-minded individuals, engage in meaningful discussions, and discover opportunities for personal growth.
By embracing these offerings, you can make the most of your time in college, leaving a lasting impact not only on your own life but also on the lives of those around you.
Cru:Through captivating Bible studies, Cru captures the imagination and engages the intellect, bringing the Scriptures to life and enriching the student experience. Inspiring devotionals touch the deepest parts of the heart, stirring passion and fostering a vibrant faith. The thought-provoking discipleship materials ignite spiritual growth, encouraging students to dive deeper into their relationship with God and discover the transformative power of His Word.
However, Cru's mission goes beyond merely equipping students for personal growth. It extends to empowering them to make a lasting impact on their college campuses and communities. Christian students are provided with a vast array of resources, enabling them to effectively engage with their peers and reflect the love of Christ in tangible ways.
Herzog Foundation: Financial aid is one of the key areas where the Herzog Foundation makes a significant impact. Recognizing the financial burdens that many students face, the foundation provides scholarships and grants to assist students in pursuing their higher education. These financial resources not only alleviate the burden of tuition fees and educational expenses but also allow students to focus on their studies and spiritual growth without the added stress of financial constraints.
Beyond financial aid, the Herzog Foundation offers mentorship and counseling programs. These programs provide students with wise counsel, guidance, and support from experienced mentors who understand the unique challenges of being a Christian in a college setting. Mentors help students navigate various aspects of college life, offering advice on academic pursuits, personal development, and maintaining a vibrant faith in the midst of diverse perspectives.
Moreover, the foundation recognizes the significance of spiritual development in a student's college journey. To support this aspect, the Herzog Foundation organizes retreats, conferences, and workshops specifically designed to foster spiritual growth and provide opportunities for students to deepen their relationship with God.
LifeWay: Lifeway is an invaluable resource that actively supports and aids Christian college students in their faith journey. With a strong commitment to equipping students with the tools and resources they need, Lifeway plays a vital role in empowering these young individuals to navigate college life while deepening their relationship with God.
At the heart of Lifeway's mission is providing students with a wide range of Biblically-based materials and resources. From books and study guides to devotionals and curriculum, Lifeway offers a rich collection of content designed to help students grow spiritually and apply their faith to all aspects of their college experience. These resources serve as a compass, guiding students in aligning their beliefs with their academic pursuits and personal lives.
Church Source: ChurchSource is a valuable ally in aiding Christian college students on their spiritual journey. With a strong commitment to equipping students with resources that strengthen their faith and provide guidance, ChurchSource plays a pivotal role in supporting these young individuals as they navigate the challenges and opportunities of college life.
One of the primary ways ChurchSource aids Christian college students is through its vast collection of Christian literature and study materials. The website offers a wide range of books, Bibles, devotionals, and study guides specifically tailored to meet the needs of students seeking to deepen their understanding of God's Word.
Recognizing the importance of community and connection, ChurchSource also fosters opportunities for students to engage in group study and discussion. Through small group resources and Bible study materials, students are encouraged to gather together, explore faith-related topics, and engage in meaningful conversations with their peers. This sense of community and shared exploration helps students build relationships, gain diverse perspectives, and find support in their spiritual journey.
Frequently Asked Questions About Studying in South Carolina
Are there specific faith requirements for attending a Christian college in South Carolina?
Christian colleges in South Carolina welcome students from various faith backgrounds. While many schools have a Christian foundation, they typically value diversity and embrace students from different beliefs. The emphasis is often on fostering a supportive Christian community and integrating faith into academics and campus life.
How do Christian colleges in South Carolina support spiritual growth and development?
South Carolina's Christian colleges prioritize spiritual growth by offering chapel services, prayer groups, Bible studies, and Christian clubs. Additionally, faculty and staff often provide mentorship and guidance, creating opportunities for students to deepen their faith, ask questions, and engage in theological discussions.
Can I pursue academic excellence and rigorous programs at a Christian college in South Carolina?
Yes! Christian colleges in South Carolina strive to offer rigorous academic programs across various disciplines. They are committed to academic excellence, hiring qualified faculty and providing state-of-the-art resources and facilities. Students can expect a robust academic environment that integrates faith and learning.
How inclusive are Christian colleges in South Carolina in terms of cultural and denominational diversity?
Christian colleges in South Carolina value diversity and strive to create an inclusive environment. They welcome students from different cultural backgrounds and denominations, fostering an atmosphere of mutual respect and understanding. This diversity enriches the campus community and promotes intercultural dialogue.