Utah is renowned for its religious landscape, with the prominent presence of The Church of Jesus Christ of Latter-day Saints (LDS Church) shaping the state's identity. Alongside the LDS Church, Utah is also home to a diverse range of Christian denominations, including Protestant, Catholic, and other expressions of the Christian faith. This religious diversity creates a fertile ground for individuals seeking to deepen their faith and engage in Christian education.
Christian colleges in Utah play a vital role in fostering the integration of faith and academics. These institutions offer a wide range of Christian or religion courses that explore subjects such as biblical studies, theology, Christian ethics, and other disciplines at the core of the Christian faith. Through these courses, students have the opportunity to delve into the foundations of their beliefs, engage in thought-provoking discussions, and develop a comprehensive understanding of Christian principles.
If you are excited to explore the intersection of faith and education in Utah, this article is for you. Here, you will discover a wealth of resources, programs, and Christian organizations available to support your journey. Whether you are seeking a well-rounded Christian liberal arts education or specialized studies in a specific field, Utah's Christian colleges offer a diverse range of opportunities.
List of Christian Colleges in Utah
Choosing the right college is an important decision, especially when it comes to integrating your faith with higher education. For students in Utah seeking an environment that combines academic excellence with Christian values, there are several exceptional Christian colleges to consider. In this article, we will explore some of the top Christian colleges in Utah, highlighting their unique features, academic programs, campus life, and the opportunities they offer for spiritual growth and personal development.
Brigham Young University (Provo, Utah)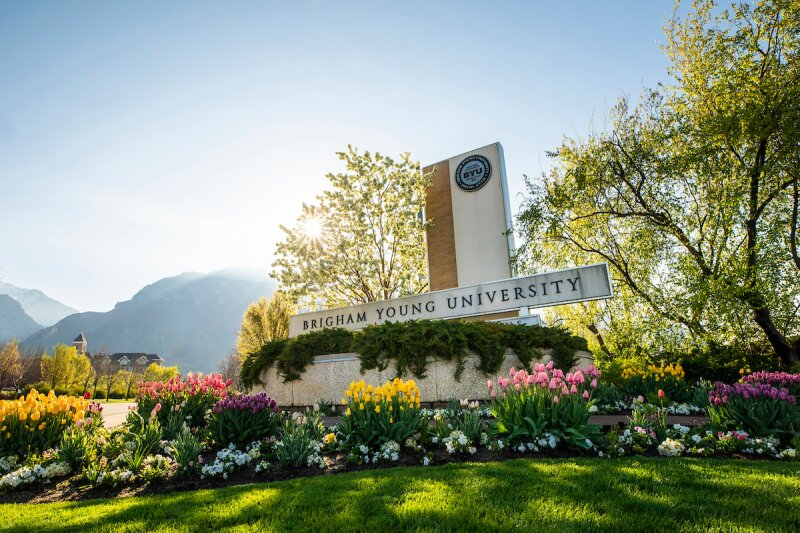 Tuition: For students, the average annual cost stands at $20,146 before aid, which decreases to $13,522 after aid. Aid consists of grants and scholarships from the institution, state, and federal government.
Graduation Rate: 64%
Acceptance Rate: 59%
Brigham Young University (BYU) stands out as a unique institution with its distinctive approach to education that seamlessly integrates academic excellence, spiritual development, and character formation. Founded and supported by The Church of Jesus Christ of Latter-day Saints (LDS Church), BYU embraces a holistic approach to learning, nurturing the minds, hearts, and spirits of its students.
The university is accredited by the Northwest Commission on Colleges and Universities (NWCCU), ensuring that its programs meet or exceed rigorous standards of quality and effectiveness. Beyond its academic reputation, BYU is known for its devotion to fostering spiritual growth and character development. The campus environment is enriched with daily devotionals, weekly devotionals called "Tuesday devotionals," and numerous religious events that provide opportunities for students to come together, worship, and strengthen their testimonies. These experiences contribute to the overall development of students as they strive to integrate their faith with their education.
Moreover, BYU encourages a spirit of service and community involvement. Students are encouraged to engage in service projects, both locally and globally, to actively apply their knowledge and skills in making a positive difference in the world. This emphasis on service-oriented activities helps instill a sense of responsibility and compassion in students, preparing them to be engaged citizens dedicated to serving others.
Admission Requirements
To access BYU's admissions information, please visit the following link: "https://www.byu.edu/admissions".
Courses Offered
Bachelor's Degree in Religion Education
At Brigham Young University (BYU), students have the opportunity to pursue a Bachelor of Religion Education degree—an academic program that combines the study of religious principles with a solid foundation in education. This unique degree equips students with the knowledge, skills, and spiritual insights necessary to serve as effective educators and leaders in religious settings.
Graduating from BYU, as well as other institutions within the Church Educational System (CES) like BYU-Idaho, BYU-Hawaii, and institutes of religion, requires the completion of 14 credit hours of approved religious education courses. These courses play a crucial role in helping students deepen their understanding of gospel principles and strengthen their testimonies.
As part of the graduation requirements, BYU students must successfully complete eight credit hours of the Cornerstone Courses—a series of foundational classes designed to provide a comprehensive understanding of key doctrines and principles.
Resources and Christian Organizations in Utah
Finding a supportive community and resources that align with your Christian faith can be an enriching experience, especially when you're in Utah. This section aims to highlight various Christian organizations and resources available in the state, providing opportunities for spiritual growth, fellowship, and meaningful engagement. Whether you are a resident or a newcomer, exploring these vibrant Christian communities can help deepen your faith and make lasting connections.
Herzog Foundation: The Herzog Foundation is a renowned philanthropic organization dedicated to supporting Christian college students in their educational and spiritual journeys. With a mission to empower the next generation of Christian leaders, the foundation offers a range of resources and opportunities that can greatly benefit students pursuing higher education.
Through scholarships, grants, and educational programs, the Herzog Foundation provides financial assistance, enabling students to pursue their academic goals without the burden of excessive debt.
Additionally, the foundation offers mentorship programs, leadership development initiatives, and networking opportunities, fostering personal growth, character development, and spiritual formation. By investing in the education and spiritual development of Christian college students, the Herzog Foundation equips them to make a positive impact in their communities and live out their faith with excellence and integrity.
InterVarsity Christian Fellowship:InterVarsity is known for its commitment to engaging students in Bible studies, small groups, and worship gatherings, providing a supportive and nurturing environment for students to explore and deepen their faith. Through these activities, InterVarsity seeks to help students integrate their faith into all aspects of their lives, including academics, relationships, and future vocations.
One of the hallmarks of InterVarsity is its emphasis on community. The organization encourages students to build authentic relationships, walking alongside one another in faith and supporting each other through the challenges and joys of college life. Students often find a sense of belonging and find lifelong friends within InterVarsity's tight-knit community.
InterVarsity also offers various leadership development opportunities, empowering students to become leaders who impact their campuses and communities. Through training programs, conferences, and mentoring, InterVarsity equips students to live out their faith boldly and compassionately, encouraging them to make a difference in the world around them.
Cru: Cru, formerly known as Campus Crusade for Christ, is a vibrant Christian organization that has been making waves on college campuses worldwide since 1951. With a mission to share the love of Jesus and ignite spiritual growth, Cru creates an exciting and engaging environment for college students and young adults to explore and embrace their faith.
Imagine a dynamic mix of inspirational programs, lively events, meaningful small group studies, and a wealth of resources—all designed to help individuals develop a personal relationship with Jesus Christ and discover the joy of sharing their beliefs with others.
Whether it's building genuine relationships, participating in intentional discipleship, or making a difference through social justice initiatives and global missions, Cru empowers young believers to become catalysts for positive change in their communities and beyond.
The Navigators: The Navigators is a dynamic Christian ministry organization with a rich history and a passion for discipleship and spiritual growth. For decades, they have been guiding individuals on a transformative journey of faith, helping them navigate life's challenges with the wisdom and guidance found in the Word of God.
Picture a group of individuals walking alongside you, providing support, encouragement, and a listening ear as you seek to deepen your relationship with Jesus. The Navigators excel in creating a nurturing environment for personal growth and discipleship, where you can explore the depths of Scripture and learn how to apply biblical principles to your daily life.
Through Bible studies, small groups, mentorship relationships, and various programs, The Navigators offer practical tools and resources to help you grow in your faith and develop a solid foundation. They believe in the power of intentional relationships and provide opportunities for individuals to invest in one another, fostering a sense of community and accountability that strengthens faith and builds lasting friendships.
Frequently Asked Questions About Studying in Utah
How do Christian colleges in Utah integrate faith into academics?
Christian colleges in Utah seamlessly integrate faith into academics, creating a holistic educational experience. Professors infuse Christian principles into their teaching, encouraging students to critically examine their fields of study through the lens of their faith. Whether you're studying sciences, humanities, business, or education, you'll gain a deeper understanding of how your academic pursuits connect with your Christian beliefs and values.
Are there opportunities for community involvement and service in Christian colleges in Utah?
Absolutely! Christian colleges in Utah understand the importance of community involvement and service as expressions of faith. These colleges provide numerous opportunities to engage in local service projects, mission trips, and community outreach programs. You can participate in initiatives that address social justice issues, serve underprivileged communities, and make a positive impact in society. These experiences will shape your character, deepen your compassion, and equip you with practical skills for servant leadership.
How do Christian colleges in Utah foster spiritual growth and development?
Christian colleges in Utah prioritize spiritual growth and development by providing vibrant campus ministries, chapel services, and discipleship programs. These colleges create a supportive environment where students can explore their faith, deepen their relationship with God, and develop their spiritual gifts. Through Bible studies, prayer groups, retreats, and mentorship opportunities, you'll have the chance to engage in authentic and transformative experiences that nurture your spiritual journey.
What support systems are in place for students in Christian colleges in Utah?
Christian colleges in Utah prioritize the well-being and success of their students by offering comprehensive support systems. These include academic advising, counseling services, career development resources, and student success centers. The faculty and staff are committed to your holistic growth and are readily available to provide guidance, mentorship, and encouragement. You'll feel supported and valued as you navigate your academic, personal, and spiritual endeavors.
Can I pursue a wide range of academic programs in Christian colleges in Utah?
Absolutely! Christian colleges in Utah offer a wide range of academic programs across various disciplines. Whether you're interested in liberal arts, sciences, business, education, healthcare, or ministry, you'll find programs tailored to your passions and career goals. These colleges provide a strong foundation in your chosen field while also incorporating Christian perspectives, enabling you to make meaningful connections between your faith and your academic pursuits.
Studying in a Christian college in Utah combines the best of both worlds—quality education and a supportive faith-based community. The enriching academic programs, vibrant spiritual environment, and breathtaking surroundings create an atmosphere where you can grow academically, spiritually, and personally. Embrace the unique opportunities that await you in Utah's Christian colleges, where you'll be empowered to make a difference in the world while deepening your faith journey.