Although Washington, D.C. is a city filled with monuments and corridors of power, another type of institution flourishes there – Christian colleges. Besides its rich political and cultural heritage, Washington, D.C. is also a great place to explore religion and grow spiritually.
Despite being as diverse as the city of Washington, D.C., Christian colleges have their own missions and values, so students feel a sense of belonging and are inspired to do good. In addition to rigorous academic programs rooted in Christian principles, these colleges offer robust campus ministries and service opportunities that nurture the mind, body, and spirit.
There are many things to do in Washington, D.C., whether you want to pursue your passions, deepen your faith, or create an impact.
List of Christian Colleges in Washington DC
Attending a college that specializes in theology, biblical studies, religious history, etc., may help strengthen your faith and understanding of Christian beliefs. It is easy for students to interact with people who share the same faith and who are committed to integrating faith with academics at colleges like these.
Listed below are a few Christian colleges in Washington, D.C. that offer courses related to religion and Christianity:
Catholic University of America (Washington, D.C)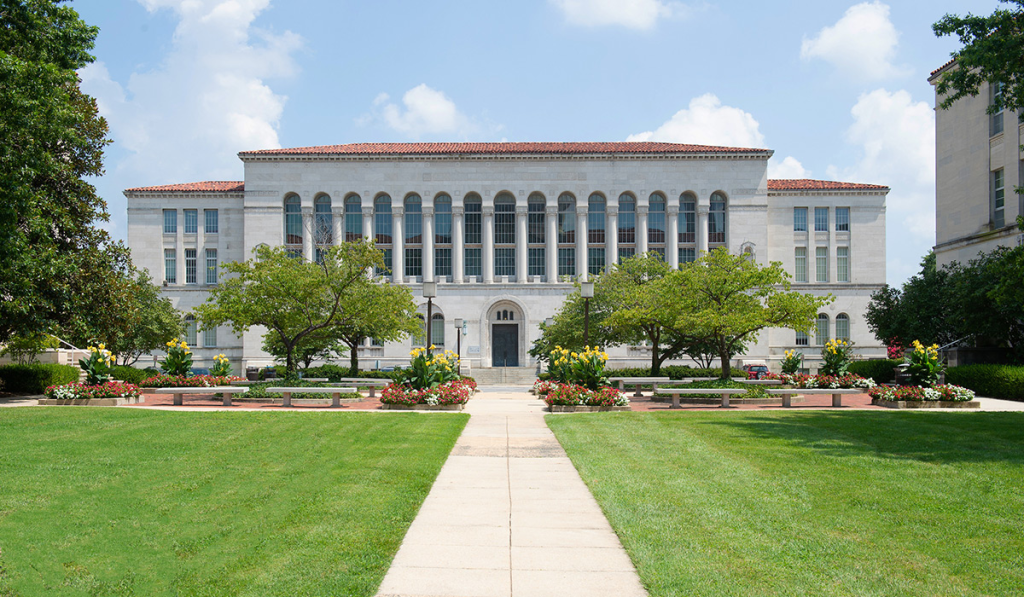 | | |
| --- | --- |
| Tuition | $23,840 – $38,490 |
| Graduation Rate | 49% |
| Acceptance Rate | 54% |
| Accreditations | Middle States Commission on Higher Education (MSCHE) |
| Religious Affiliation | Roman Catholic |
| Church Affiliations | N/A |
| ACT Range | 23 – 31 |
Admission Requirements
Click here to learn more about the admission process and requirements: https://www.catholic.edu/admission/index.html. 
Programs Offered
Bachelor of Arts in Theology and Religious Studies
It's not just about academics for many students, but about nurturing their own faith as well. In this program, students get the chance to integrate their academic knowledge with their personal beliefs, helping them grow spiritually and build a deeper relationship with their faith. As they explore religious traditions, their lives are richer and their personal journeys are guided, to the point where they feel inspired and enlightened.
When students enroll in the Bachelor of Arts in Theology and Religious Studies program, they become part of a vibrant academic community where they engage in stimulating conversations, receive guidance from highly respected faculty, and form lasting bonds with fellow students who share their passion for God.
Certificate in Pastoral Ministry
Those who want to serve in different ministries within the Church can get a comprehensive and professional formation in the Certificate in Pastoral Ministry program. As a Catholic education, youth ministry, and service ministry program, this program gives students the skills and credentials they'll need to make an impact.
Designed as a four-course certificate program, students take classes on evangelization, pastoral ministry, and their particular area of interest. This program gives students a deep understanding of pastoral ministry principles and practices, while also exploring the intersection of theory and practice.
Washington Adventist University (Washington, D.C)
| | |
| --- | --- |
| Tuition | $13,625 – $37,498 |
| Graduation Rate | 40% |
| Acceptance Rate | 62% |
| Accreditations | Middle States Commission on Higher Education (MSCHE) |
| Religious Affiliation | Seventh-day Adventist |
| Church Affiliations | N/A |
| ACT Range | 15 – 25 |
Admission Requirements
Here's a link to detailed information about the admissions process, requirements, and financial aid options: https://www.wau.edu/admissions-aid/admission/.
Programs Offered
In order to earn a Bachelor of Arts in Religion, students must complete the core curriculum, cognates, and General Education block. Students can select a concentration based on their interests in the program, but a second major, a minor, or the pre-law emphasis is mandatory for all students.
Approximately 40 hours of coursework are required for the Religion Core Curriculum. Additionally, students must choose one of the following courses: RELT 335 Paul and His Letters (3), RELT 351 Faith Seeking Understanding: Christian Doctrines II (3), or RELT 491 Seminar in Contemporary Theology (3).
Students must fulfill all the requirements of the core curriculum for a Bachelor of Arts in Theology, including the cognates, General Education, and concentration they choose. A minor or pre-law emphasis is highly recommended, but it is not required. Theology Core Curriculum consists of 49 hours of coursework.
Georgetown University (Washington, DC)
| | |
| --- | --- |
| Tuition | $24,570 – $81,515 |
| Graduation Rate | 95% |
| Acceptance Rate | 12% |
| Accreditations | Middle States Commission on Higher Education (MSCHE) |
| Religious Affiliation | Catholic and Jesuit |
| Church Affiliations | N/A |
| ACT Range | 32 – 35 |
Admission Requirements
You can find all the necessary information and resources to apply to Georgetown University on the official admissions website at https://uadmissions.georgetown.edu/. 
Programs Offered
Bachelors in Theology & Religious Studies
Among the most interesting undergraduate majors offered by the Department of Theology is the Bachelor of Arts in Theology. It covers theological concepts, religious traditions, and ethical considerations.
By enrolling in Georgetown's Bachelor of Arts in Theology program, students have the opportunity to explore theology in a variety of ways. Examine the sacred texts of different faiths, examine the historical development of religious traditions, and think philosophically and ethically about them. Through examining theology in its broader social, cultural, and historical context, students gain a deeper understanding of how religion affects individuals and societies.
Resources and Christian Organizations in Washington DC
Students interested in developing their faith and meeting like-minded people will find DC a great place to do so. Mingling with like-minded people, exploring spiritual practices, and volunteering with local religious organizations are all easy to do.
As you read along, learn about Christian organizations, initiatives, and events in Washington.
Chi Alpha: With roots primarily in the United States, Chi Alpha also has a global presence and establishes chapters on college and university campuses. Students are encouraged to develop meaningful connections with their peers as well as explore and deepen their faith in vibrant, inclusive communities.
Discipleship, mentorship, and the formation of small groups known as "Life Groups" or "Core Groups" are central to Chi Alpha's mission. It is in these intimate gatherings that students can engage in Bible studies, pray, have discussions, and participate in other activities that nurture their spiritual growth in a safe and supportive environment.
InterVarsity Christian Fellowship: Christian campus ministry InterVarsity maintains traditional Christian values and beliefs. While creating a welcoming, inclusive environment, it doesn't let go of biblical teachings. Ultimately, InterVarsity's goal is to inspire and challenge students to live out their faith in meaningful ways, and empower them to change the world.
Basically, InterVarsity is a Christian fellowship that goes to college and university campuses all over the country. The organization's primary goal is to build communities of evangelical Christians on campus who follow Jesus and integrate their faith into their academic pursuits.
Cru: It's Cru's mission to make a profound impact on college students by using captivating Bible studies to bring Scriptures to life and enrich their experience. With Cru devotionals, you'll ignite a passion and unwavering dedication, while intellectually stimulating content will help you grow spiritually and build a deep, personal relationship with God.
However, Cru's mission isn't just about individual growth. They're about helping students leave a lasting impact on their college campuses. Cru equips Christian students with a huge arsenal of resources to interact meaningfully with their peers and show Christ's love in practical and heartfelt ways through an extensive array of resources available to Christian students.
Frequently Asked Questions About Studying in Washington DC
What is the academic experience like at a Christian college in Washington, DC?
Many courses incorporate Christian values, ethics, and worldviews into their curriculum, so students can explore their academic disciplines from a biblical perspective. With this approach, students grow spiritually along with intellectually.
Is there any religious activity on campus that I can get involved in?
Definitely! Christian colleges in Washington, DC offer a lot of opportunities for spiritual growth. There are chapel services, prayer groups, Bible studies, and Christian organizations that cater to individual interests, so students get to deepen their faith and build meaningful relationships on campus.
What's the student body like at Christian colleges in DC?
Despite their diversity, Christian colleges in Washington, DC welcome students of all backgrounds, cultures, and denominations. They recognize the importance of cultivating communities that reflect the broader body of Christ. Different perspectives allow students at Christian colleges to learn from one another.
Do Christian colleges in Washington, DC offer specific majors or career paths?
It doesn't matter if you're interested in business, healthcare, arts, sciences, or anything else, these institutions have the right academic programs for you. Taking a Christian college can give you the opportunity to pursue your academic passions while integrating your faith into your studies, so you get a holistic education.