A Christian college experience in New Hampshire unveils a realm teeming with plentiful resources and vibrant organizations, eagerly awaiting students' embrace. Campus ministries, student-led prayer groups, faith-based clubs, and service-oriented organizations intertwine, creating a tapestry of opportunities for students to engage with their faith community. Within this tapestry lies not only spiritual support but also a sense of belonging, forging networks of like-minded individuals who share common values and aspirations.
Moreover, New Hampshire itself sets the stage for a dynamic backdrop that captivates Christian college students. Nestled amidst picturesque landscapes and pulsating communities, the state becomes a nurturing environment for students to immerse themselves in academic pursuits and spiritual growth. Engaging with the local community, embarking on outdoor adventures, and immersing in cultural experiences open doors for students to foster connections and make a lasting positive impact, transcending the boundaries of their campus.
List of Christian Colleges in New Hampshire
For those seeking a deeper understanding of Christianity and its profound influence on society, Christian and Religion courses and programs provide a remarkable opportunity to explore the depths of faith, theology, and spirituality.
This compilation highlights the breadth and depth of christian and religion courses and programs available, showcasing the remarkable institutions that provide students with the tools to navigate the complexities of faith in a rapidly changing world.
Magdalen College of the Liberal Arts (Warner, New Hampshire)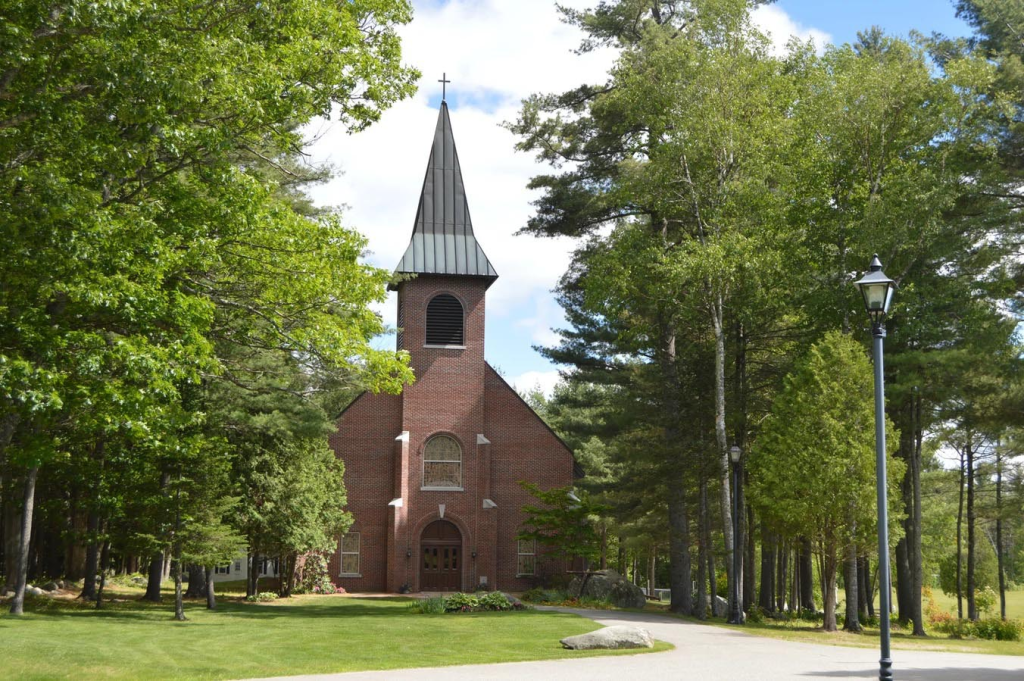 Image from Magdalen College of the Liberal Arts' official website
Tuition: Before financial assistance, the cost stands at $36,456, but after aid, it dramatically reduces to a remarkably affordable $10,700.
Graduation Rate: N/A
Acceptance Rate: 95%
Admission Requirements
To explore admissions information and opportunities, please visit the following link: https://magdalen.edu/admissions-mc/.
Courses Offered
The Bachelor's Degree in Theology at Magdalen College equips students with critical thinking skills, effective communication abilities, and a strong theological framework. The program emphasizes both academic rigor and spiritual formation, nurturing students to become thoughtful scholars and dedicated servants of their communities.
Through a combination of engaging lectures, seminars, and hands-on experiences, students delve into the sacred texts, engage in theological debates, and explore the rich traditions of the Catholic Church. Faculty members, who are renowned theologians and experienced practitioners, guide students on their academic journey, encouraging intellectual exploration and fostering spiritual growth.
Upon completion of the program, graduates of the Bachelor's Degree in Theology from Magdalen College are prepared to pursue diverse career paths. Many graduates continue their studies in seminaries or pursue advanced degrees in theology, while others apply their theological knowledge to serve in various ministry roles, education, counseling, social services, or other fields where a solid foundation in theology is valuable.
Saint Anselm College (Manchester, New Hampshire)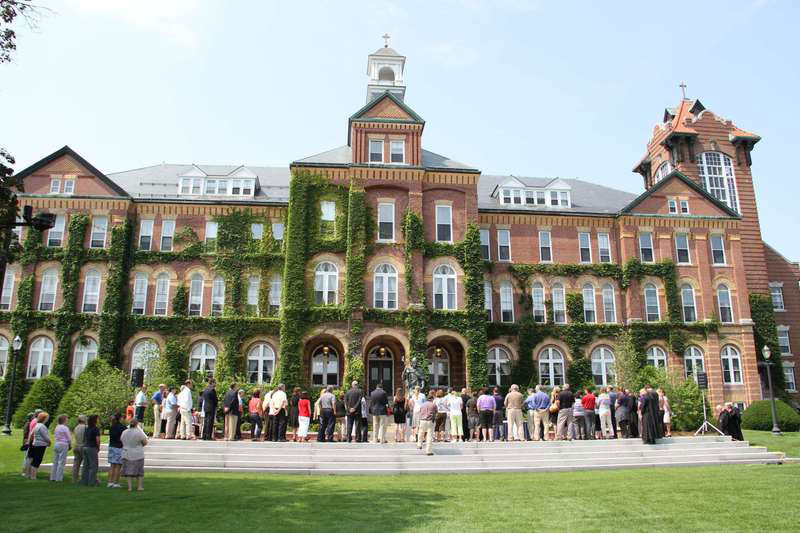 Image from Saint Anselm College's official website
Tuition: Prior to aid, the cost stands at $63,622, but after aid is factored in, it dramatically decreases to a more affordable $33,898
Graduation Rate: 78%
Acceptance Rate: 78%
Admission Requirements
For detailed information on admission and financial aid opportunities, please visit http://www.anselm.edu/admission-aid.
Courses Offered
Theology holds a vital role within the core curriculum of a Catholic liberal arts college, offered both as a major (B.A.) and a minor. Rooted in the pursuit of comprehending the enigmatic nature of God and the human experience, theological inquiry aims to articulate the profound revelation of Jesus while examining and elucidating the faith of the Christian community across historical and present contexts.
Moreover, theology delves into the practical ramifications of leading a life guided by faith, encompassing moral, spiritual, and liturgical dimensions.
Resources and Christian Organizations in New Hampshire
Christian Associations provide thriving communities that unite students, scholars, and professionals who share a common desire to integrate their faith with their academic endeavors. These associations establish a nurturing network where students can connect with like-minded peers, explore a range of perspectives, and participate in enriching discussions.
By attending conferences, seminars, and workshops organized by these associations, students have the opportunity to broaden their horizons, gain valuable insights from field experts, and cultivate meaningful connections that extend far beyond their academic pursuits.
The Summer Staff program offers a transformative volunteer experience at Young Life camps for individuals who have completed at least one year of college (or are of college or post-college age). These dedicated volunteers serve in various roles that require maturity and a strong non-verbal witness, such as overseeing activities like the ropes course, climbing wall, mountain bikes, and waterfront.
Participants in the Summer Staff program have the opportunity to embark on a month-long journey of personal and spiritual growth. Surrounded by like-minded individuals who share a common desire to make a meaningful impact, volunteers strive to live out their faith and serve others in the same spirit as Jesus did thousands of years ago.
Alliance World Fellowship: The Alliance World Fellowship (AWF) is a global network of evangelical Christians and churches that aims to promote fellowship, cooperation, and unity among its members. It serves as a platform for collaboration, resource sharing, and mutual support, with a focus on the Great Commission of spreading the gospel and fulfilling the mission of the Church.
It emerged from the founding of the Christian and Missionary Alliance (C&MA) by A.B. Simpson in 1887. Simpson, an evangelical preacher and theologian, sought to emphasize the centrality of Jesus Christ and the need for worldwide evangelism and missions.The C&MA initially started as a denominational movement within North America but gradually expanded its reach globally, establishing churches, training institutions, and missionary works in different countries.
As the movement grew, there arose a desire for greater collaboration and partnership with other like-minded evangelical organizations and churches worldwide. This led to the formation of the Alliance World Fellowship in 1951.
New Hampshire Bible Society: The New Hampshire Bible Society (NHBS) is a non-profit organization dedicated to promoting the Bible and its teachings throughout the state of New Hampshire, United States. Founded in 1812, the NHBS has a rich history of providing access to the Scriptures, supporting biblical literacy, and offering resources and programs to help individuals, including students, engage with the Bible.
One of the key ways in which the New Hampshire Bible Society helps students is by providing access to the Scriptures. Through partnerships with schools, colleges, and universities, the NHBS distributes Bibles to students who may not have their own copies. This ensures that students have the opportunity to read and study the Bible, enabling them to explore its teachings and develop their understanding of the Christian faith.
Christian Resource Center of New Hampshire: The CRCNH serves as a hub for Christian resources, support, and networking in New Hampshire. Its primary objective is to equip individuals, churches, and ministries with the necessary tools and assistance to nurture their faith, serve their communities, and spread the message of Christ.
At the CRCNH, individuals and ministries have access to an extensive range of resources that foster spiritual growth and support Christian ministry. The physical location houses a diverse library, including books, Bibles, devotionals, study guides, and literature covering various topics such as theology, biblical studies, discipleship, missions, and Christian living.
In addition to its physical resources, the CRCNH maintains a digital platform or website, expanding access to an even wider array of materials. This online presence includes e-books, articles, sermon recordings, and multimedia resources that can be conveniently accessed from anywhere.
Frequently Asked Questions About Studying in New Hampshire
Are there specific requirements for students to actively practice a certain Christian faith in Christian colleges in New Hampshire?
Christian colleges in New Hampshire may vary in their expectations regarding students actively practicing a specific Christian faith. While some colleges may prioritize the active practice of the Christian faith as part of their community and mission, others may focus more on creating a welcoming environment for students of various faith backgrounds. It's advisable to research each college's specific religious requirements and expectations or reach out to their admissions office for more information.
How do Christian colleges in New Hampshire promote spiritual formation and growth among students?
Christian colleges in New Hampshire typically provide various opportunities for spiritual formation and growth. These can include regular chapel services, prayer groups, Bible studies, retreats, and community service programs that encourage students to integrate their faith into their academic and personal lives. Some colleges may also offer mentoring programs, spiritual counseling, and guidance for students seeking to deepen their relationship with God.
What types of campus ministries or Christian organizations are available at Christian colleges in New Hampshire?
Christian colleges in New Hampshire often have vibrant campus ministries or Christian organizations that provide spiritual support and community for students. These ministries may organize worship services, prayer gatherings, discipleship groups, mission trips, and special events that foster spiritual growth and fellowship. Students can actively participate in these ministries to deepen their faith and develop lifelong connections.
Do Christian colleges in New Hampshire have specific programs or initiatives focused on social justice and community service?
Many Christian colleges in New Hampshire emphasize social justice and community service as integral parts of their educational mission. They may offer dedicated programs or initiatives focused on service-learning, community outreach, and addressing societal issues from a Christian perspective. Students can engage in volunteer work, internships, and projects that contribute to the betterment of their local communities and beyond.
How do Christian colleges in New Hampshire foster a sense of Christian community on campus?
Christian colleges in New Hampshire often prioritize creating a vibrant and supportive Christian community on campus. They may offer opportunities for fellowship, small group discussions, worship nights, and student-led Christian organizations or ministries. Residential life programs may also incorporate intentional community-building activities, fostering relationships and a sense of belonging among students.